ENGLAND

LONDON SOUTHBANK UNIVERSITY
London South Bank University (LSBU), established in 1892 as Borough Road Polytechnic, is the oldest university in central London. LSBU is validated by the UK government to award Bachelor, Master and Doctoral degrees through its six schools: Applied Science, Arts & Creative Industries, Built Environment & Architecture, Business, Engineering, and Law & Social Sciences. The University is highly regarded for its academic standards, practical curriculum, research, expert faculty and community outreach.With over 23,500 students, LSBU is one of the largest universities in London. The student body is one of the most diverse in the UK: 18% of the students are international, 48% are ethnic minority, and 57% are female.The campus is situated in Southwark, a short walk from many of London's major landmarks. The campus is clustered on several city blocks and includes academic buildings, libraries, residence halls, cafes and sport/recreation facilities.
Teaching & grading
The curriculum at London South Bank University is based on the British higher education system. Many classes will have a syllabus, although you should not expect a syllabus in every class. Professors utilize lecture, discussion, and/or hands-on teaching styles, depending on the subject.While there are some similarities to the USA, there are also differences. Students are expected to work more independently, courses may have fewer assignments and professors are less likely to provide study sheets for exams. It is not uncommon to have your course grade based on one or two exams or projects. Because of this, it is important for students to plan their work schedule in advance and use time efficiently.Grading is based on the British educational model. Assessment methods may be different from universities in the USA. Professors may test students orally (as opposed to passing out written exams); students from the same class may be asked different questions on their exams, and your final grade may be based on just one or two assignments and/or exams.

Description
Excellent
Good
Satisfactory
Minimum Passing
Failed


UK Grade
> 70% (1st class)
60-69% (upper 2nd class)
50-59% (lower 2nd class)
40-49% (3rd class)
< 40%

USA Grade
A
B
C
D
F

School of Applied Sciences


Sport and Exercise Science Research Centre (SESRC) has access to sophisticated equipment.
---
School of Arts & Creative Industries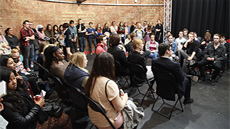 The Edric Theatre is a dedicated performance space with a reconfigurable 90-seat auditorium, seven studio theatres, rehearsal spaces and backstage facilities.
---
School of Built Env. & Architecture


The Acoustic Laboratory is a research and commercial facility that includes the only Anechoic Chamber in London.

The Digital Architectural Robotics Lab (DARLab) is a research platform that advances experimentation and cross-discipline collaboration among students, industry and academic staff.
---
School of Engineering

The Virtual Engineering Laboratory allows students to walk around their designs and view them in 3D.

The Engine and Petrol Laboratories develop, test and produce prototypes.
---
School of Health & Social Care


The Traditional Chinese Medicine Clinic is a teaching facility and the world's first Confucius Institute for Traditional Chinese Medicine.