Edinburgh is one of the world's great cities and renowned as a center of learning and discovery. It's culturally diverse, historically significant, socially alive, environmentally aware, politically central and visually stunning. Galashiels is a vibrant town in the Scottish Borders, about 1 hour from Edinburgh. Galashiels' history is closely aligned with the textile industry.
Studying in Edinburgh and Galashiels is a stimulating and inspirational experience. Students make up a large percentage of the population, so there is a diverse social scene with live music at local pubs, festivals, restaurants, cafes, theaters, galleries and architectural wonders. Scotland also offers abundant outdoor activities such as hiking, biking, skiing and much more.
Heriot-Watt has an active Student Union, lots of student clubs and excellent sport facilities. Students are encouraged to become active participants in campus life.
Housing & meals
Students live at the university residences on the Main Campus in Edinburgh and Scottish Borders Campus in Galashiels. Students must live on the campus where they are taking courses. The Scottish Borders campus is for students taking fashion design and textile courses. The Main Campus is for all other students.
Residences are organized into suites with a shared kitchen, bathroom and single-occupancy bedrooms. Most rooms have a telephone and Internet. A coin operated laundry is available in the residence halls.
Both campuses offer several cafes and cafeterias. Most students take the opportunity to learn how to shop and cook regional cuisine by making their breakfast and dinner in the residence kitchen. Grocery stores and markets can be found in the surrounding neighborhood.
Getting around town
Edinburgh and Galashiels are compact, making it easy to get around on foot. Biking is very popular. Edinburgh also has a developed public transportation system consisting of buses and trams. Taxis are also available.
Edinburgh is one of Scotland's best connected areas with transport networks linking the city with the rest of the UK, Europe and beyond. There are two mainline train stations: Edinburgh Waverley in the city center and Haymarket in the West End. First ScotRail is the main operator of train services from Edinburgh to the surrounding areas and across Scotland. There are 50 daily train services between Edinburgh and London and the fastest route takes 4 hours and 20 minutes.
Galashiels is connected to Edinburgh via the Borders Railway. A typical commute between the Borders and Main campus is 1 hour.
Phones & internet
KEI will provide a prepaid mobile phone shortly after arrival in Edinburgh. The KEI Onsite Director will explain how to use the phone. The phone will have a small amount of credit to get you started. Additional minutes can be purchased at numerous convenience stores. Internet service is available on campus.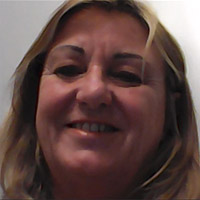 Jenny Mann
jenny@KEIabroad.org
Edinburgh & Galashiels, Scotland
Hello. I was born and raised in Scotland and earned a Bachelor of Arts degree in languages from Strathclyde University in Glasgow. For most of my career, I worked as a teacher and tour guide in Scotland and the UK. I also worked as a Program Director for a U.S.-based internship program, which I missed very much. I was very excited to return to study abroad as the KEI Onsite Director.
It gives me great joy to share my country and culture with students from the U.S.A. We will do many fun group activities while you are in Scotland. I will meet you at the airport on arrival, organize transportation to the university, conduct a detailed orientation, organize cultural field trips and excursions, and assist you throughout the program. We will meet regularly for activities, and you can always contact me by phone and WhatsApp. Hope to see you in Scotland soon!